These are some of my favourite films, ones that are beautiful and inspire me.
The Virgin Suicides
Doctor: "Why are you here, honey? You're not even old enough to know how bad life gets." Cecilia: "Obviously, Doctor, you've never been a thirteen-year-old girl."
I love it for the imagery; muted colours, the look that it's always sunny but dimly lit at the same time, the conservative floral kind of dresses the Lisbon sisters wear to their school dance, the dead kind of feeling portrayed around their home, their raw faces, the dappled sunlight in so many scenes, and the feeling that you're in a dream, I could go on for hours.
The Labyrinth
I first saw the Labyrinth when I was about three. My cousins showed it to me and I was pretty freaked out. But I've always sort of loved it. It's weird and wonderful from the peculiar characters to the Escher style scenes. And Jennifer Connolly as Sarah is so beautiful. The only thing I don't love is David Bowie.
Atonement
Even though it's tragic, I just love the imagery. But after the first few scenes it's too sad to watch. That feeling that something bad is going to happen hangs in the mood of the whole film. It's amazing how one person's stupidity and maybe jealousy can ruin multiple peoples' lives. The love is beautiful though.
Lords of Dogtown
This movie makes me want to move to a surf town, learn to skate and just skate around with a group of people as cool as the z-boys with no care in the world. I also love the way it's filmed. The affects in the colours and details gives it such a perfect feel.
Desperately Seeking Susan
Eighties Madonna is one of my favourite things. The attitude and overall feeling of he film is so great. I wish I had lived in the eighties, everything seems so interesting and there isn't internet or television in everywhere to distract you. Don't get me started on wanting to live in the eighties...
Almost Famous
"One day, you'll be cool."
The intense love of music that the characters have is wonderful. To be on tour during the sixties and seventies would be the best experience. William's experience is amazing, I'm so jealous.
Christiane F
I love it for the rawness, red hair, addiction and completely unmatching socks with heels. Christiane's story is one of addiction, love and David Bowie. She's fourteen and loves David Bowie, she develops an addiction to heroin. And together, her and her lover, go down together. It's a true story and an great film.
Elvis and Anabelle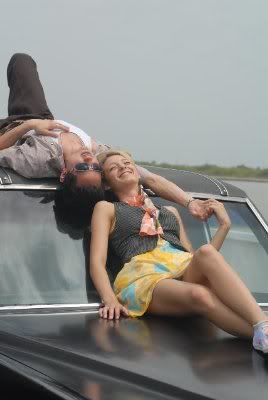 A strange and beautiful story. I love the way the creators have made the story seem so old with clothes and other little things. It's so tragic but interesting.